Labour Day at Holiday Inn by the Falls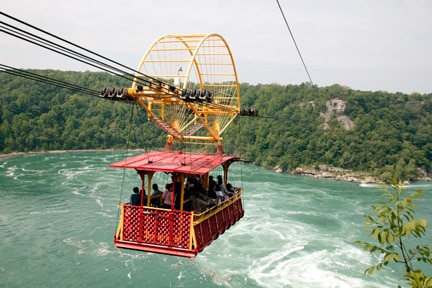 Labour Day in Niagara Falls
You deserve a break from all the back-to-school planning and hoopla. This Labour Day weekend enjoy the non-stop excitement in Niagara Falls, Ontario. Squeeze in one last weekend of summer fun before the kids go back to school. Stay at the Holiday Inn by the Falls to enjoy a central location and family-friendly budget. With the Holiday Inn's Attractions Package kids 12 and under stay and eat for free! Your family will be able to relax together before the busy school year starts up again, which will put everyone in the right frame of mind of a fantastic fall.
With hundreds of attractions, concerts, and events you'll find something for everyone in your family at Niagara Falls this labour day.
For the music lover…
If you love music then you won't want to miss a variety of free Coca-Cola sponsored concerts as well as bands playing in the Onguiaahra: Thunder of Waters Sound & Light Show Friday, August 28 – Sunday, September 13th. The bands will play in Queen Victoria Park from 7:15 – 10 p.m. as part of the sound and light show. Situated across from the American Falls, audiences will enjoy a musical symphony of sounds and coordinating lights that reflect the sprays of a pond fountain which is set up in the falls and which will display a rainbow of colours that are truly astounding. This must see event is unique to the Falls —you won't find anything else like it. These concerts are followed by an amazing Fallsview fireworks display that won't disappoint.
For the thrill seeker…
The thrill seekers in your family will love to wrap up their summer with stunts that stun, including acrobatic motorcycles, sky-scraping sway poles, and the death-defying wheel of fate, featuring acrobatic daredevils on a giant pendulum.
If you want to get involved in the action then consider visiting Niagara Falls Freefall-Indoor Skydiving where you can fly in a vertical wind tunnel designed with padded walls and soft padded floors so you can experience thrills safely. With trained instructors there to help you don't need any previous skydiving experience to enjoy this attraction.
For the goofballs…
Every family has at least one (or more) goofball. The Clifton Hill Combo Pass with Cannon Blasters, Glow in the Dark Mini Putt, Laser Tag and a Laser Maze will help you save money while satisfying your goofy side. Also consider checking out Greg Frewin's award-winning Magic Show which starts at 7:30 p.m. or the adults in your group may prefer to laugh along (and aloud) with  one of the stand-up acts at Yuk Yuk's.
For the gambler…
Whether you enjoy poker, table games or slot machines you'll enjoy the excitement of spending an evening at Casino Niagara or Fallsview Casino where you can also enjoy great entertainment, food, and drinks.
For the foodies…
If you love culinary delights you'll enjoy the many gourmet restaurants available in and around Niagara Falls. Guests at the Holiday Inn by the Falls can enjoy dining atop Skylon Tower, where the award-winning cuisine and spectacular views are hard to match.
Beer and wine lovers will enjoy spending time at many nearby wineries and breweries like Niagara Brewing Company, which is located nearby on Clifton Hill. With an Attractions Package guests of the Holiday Inn by the Falls can enjoy a two-day pass on WeGo Transit, which provides transportation from our hotel in Niagara Falls to a number of Niagara's hottest attractions.
Wrap up your summer with a Labour Day you won't forget. Stay two nights to have time to make everyone in your family happy with the wide variety of Fallsview attractions, events, concerts, casinos and restaurants in the area while also enjoying the free Labour Day events that will fit your family's budget.
Labour Day Tips for Your Vacation at Holiday Inn Fallsview:
Labour Day is a busy day to travel and if your trip to Niagara Falls includes a drive over the border you'll want to be sure to check with Canadian Border Services to view estimated wait times and the suggested ideal times to cross.
Don't forget to pack lots of water, hats, and sunscreen! You'll definitely be outside for most of the day and you won't want to end your summer with a sunburn.
Book early to avoid disappointment and to take advantage of the best packages at the Holiday Inn Fallsview. Their Attraction Package includes:

Two nights deluxe accommodation
Admission to famous Niagara Falls seasonal attractions
Two days of WeGo bus transportation
Free on-site parking
Free accommodation and meals for kids 12 and under
OTHER HOLIDAY'S IN NIAGARA FALLS