Attractions
A Niagara Falls Hotel that is the centre of the best Niagara Falls Attractions
Location, location, location! This Niagara Falls hotel is conveniently located in the heart of the Fallsview Dining and Entertainment district. We are as close as it gets to the mighty Falls. And we're literally just steps away from many of Niagara's favourite attractions.
Skylon Tower Ride-to-the-Top & Observation Decks
Right Next Door
If you only go one place on your Niagara Falls getaway, the Skylon Tower Observation Deck is it. A trip to the top of this world-famous Niagara Falls attraction combines an exhilarating 52 second ride with the awe of seeing Niagara from 775 feet above the mighty Falls. From the moment you hop aboard one of our "Yellow Bug" glass-enclosed exterior elevators and glide smoothly to the top, you'll agree the Skylon Tower is the highlight of your visit. www.skylon.com/ride.html
Transportation on WeGo
Right Next Door
Ride to Fun! This state-of-the-art bus system connects accommodations and Niagara Falls tourist areas. WEGO is a unique partnership between The City of Niagara Falls and The Niagara Parks Commission to provide integrated bus service to visitors. The WEGO delivers a seamless connection between tourist attractions within the city and Niagara Parks, helping you to experience all that this world-class destination has to offer. WEGO is fully accessible and will operate year-round, giving easy, convenient service to travelers from around the globe who visit Niagara Falls. At Niagara Parks, WEGO replaces the familiar fleet of Peoplemover buses which have operated seasonally for over 26 years. Visit the WeGo website for details.
Skylon Tower Family Fun Centre
Right Next Door
The Skylon Tower is home to Niagara Falls largest indoor entertainment center - the Skylon Family Fun Center. Conveniently located in the Skylon Tower lower concourse level, this attraction features high-tech interactive games and rides for all ages. www.skylon.com/familyfun.html
Fallsview Casino
Right Next Door
Fallsview Casino is the holy grail of casino gaming in Canada. The Fallsview Casino contains 3000 slot machines, over 100 gaming tables spread across a 200,000 square feet floor area. Fallsview also contains a concert showroom that has hosted the biggest stars in show business including Jay Leno, Kelly Clarkson and Diana Ross. Come down to Niagara and experience the sophistication, luxury and pulsing energy that is Fallsview Casino.
Imax Theatre
Right Next Door
The Niagara Falls IMAX® Theatre is where your adventure begins! Located in the heart of the Niagara Falls tourist and entertainment district, the theatre is home to the IMAX® film, Niagara: Miracles, Myths & Magic, the amazing Niagara Falls Daredevil Exhibit, and the best source of daredevil and Niagara Falls history. In addition, when these films are being played on a 6 feet high screen with 12,000 watts of digital surround sound, you'll feel like you're right in the action. www.imaxniagara.com
Niagara Helicopters
2.7 Miles / 4.4 Km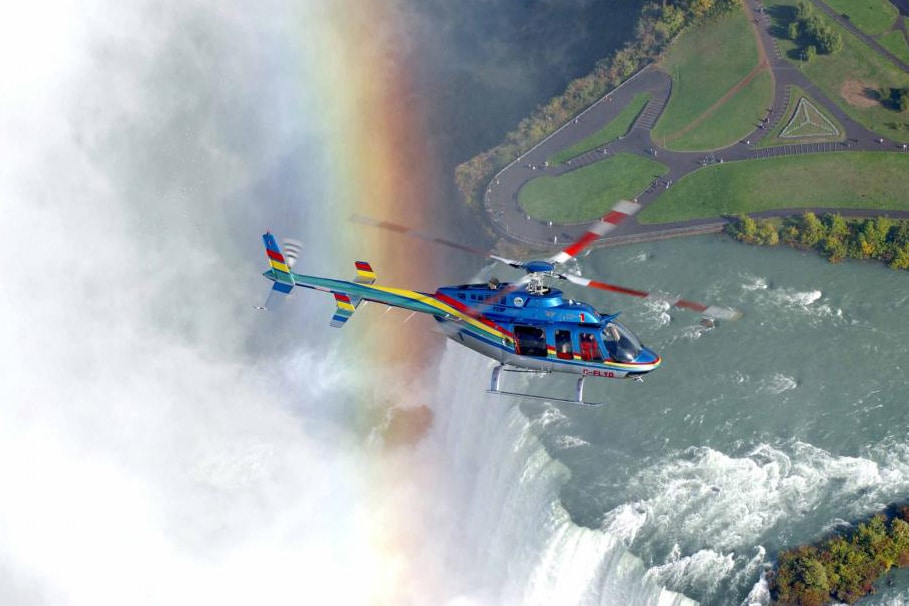 From the sensation of lift-off to the excitement of soaring above the turbulent rapids and the cascading waterfall, your all-scenic flight give you a thrilling view of Niagara's natural and man-made wonders.
For over 40 years , Niagara Helicopters has been thrilling people from around the world with the highest, most scenic, most exciting sightseeing experience in the Niagara Region – all from the safety and comfort of one of five meticulously maintained Bell 407 helicopters. Their 9-minute tour includes on-board commentary in many different languages including English, French, German, Spanish, Japanese, Korean, and Chinese. www.niagarahelicopters.com
Whirlpool Jet Boat Tours
15.0 Miles / 24.1 Km
Whirlpool Jet Boat Tours is an exhilarating white-water experience on the Niagara River with awe-inspiring scenery, historical landmarks, and class five rapids through Devil's Hole. Get absolutely soaked on the "Wet Jet" experience or remain completely dry while aboard the "Jet Dome" tour. Daily departures from May to October. www.whirlpooljet.com
Niagara's Fury
< 1 Mile / < 1 Km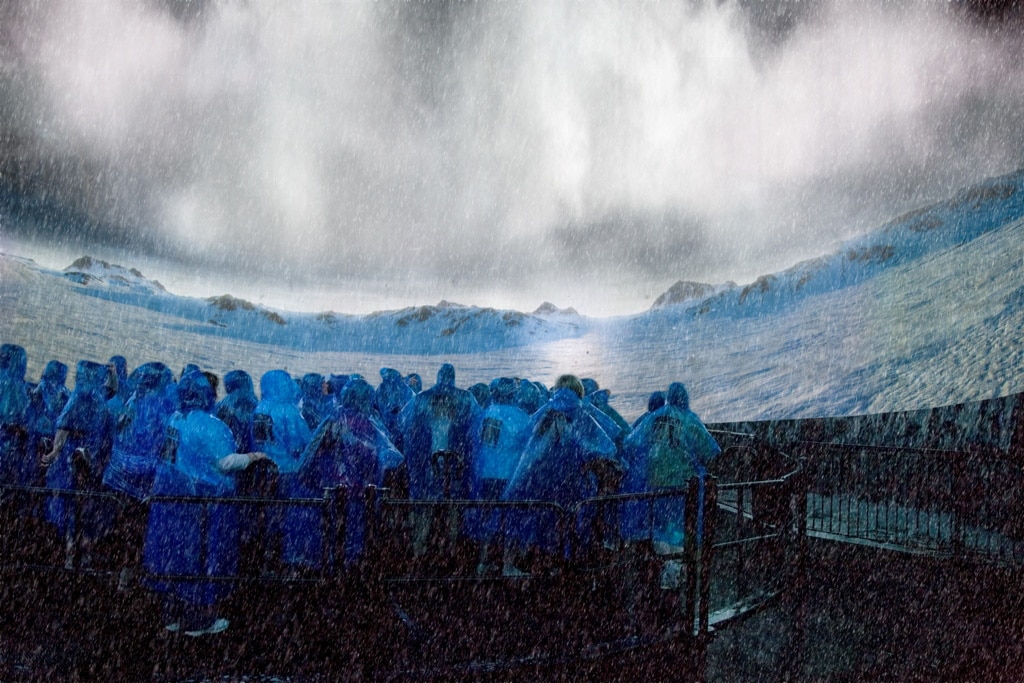 Travel back in time 10,000 years to experience the Creation of the Falls. Witness the power and beauty of nature in 4D as the history of Niagara is revealed - you'll feel like you were actually there when Niagara's Great Gorge was formed!
To get the Authentic Falls Adventure, experience Niagara's Fury as part of the Niagara Falls Adventure Pass! The Pass gives Priority Access to four top Falls attractions plus two days of in-Park transportation, all at a 33% discount. Open year-round, this attraction is also part of the Winter Magic Pass. Enjoy the savings and purchase the Pass at any Niagara Parks Welcome Centre or attraction, participating hotels or online at www.niagaraparks.com.
Journey Behind The Falls
< 1 Mile / < 1 Km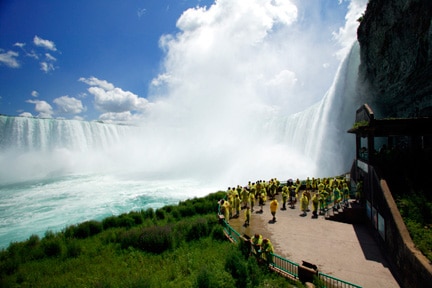 Feel the Thunder! The sound is like thunder, the sight awe-inspiring! Water crashes around you from 13 storeys and immerses you in the spray and mist of the mighty Horseshoe Falls. This exhilarating journey takes you down 150 feet below the heart of Falls through tunnels that lead you behind the rushing wall of water. Take in spectacular views from observation decks at the foot of the Falls where you can actually feel the thunder of the crashing waters.
Get Priority Access to this thrilling experience by purchasing your Niagara Falls Adventure Pass that includes not only the Journey Behind the Falls, but four top authentic Falls Adventures at a 33% savings! Open year-round, this attraction is also part of the Winter Magic Pass. Enjoy the savings and purchase the Pass at any Niagara Parks Welcome Centre or attraction, participating hotels or online at www.niagaraparks.com.
Whirlpool Aero Car
3 Miles / 4.8 Km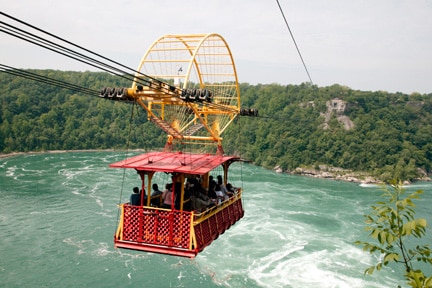 Soar the Great Gorge! High above the racing Niagara River, you will be transported through the air in an antique cable car. Far below, the torrent of water abruptly changes direction and creates one of the world's most mesmerizing natural phenomena – the Niagara Whirlpool. Sometimes frightening and always unforgettable!
A coupon for discounted admission to the Whirlpool Aero Car is included with the purchase of the Niagara Falls Adventure Pass. Open seasonally. Learn more about the Whirlpool Aero Car at www.niagaraparks.com.
Butterly Conservatory
6 Miles / 9.8 Km
Escape to a Tropical Paradise! Imagine over 2,000 colourful tropical butterflies floating freely among lush, exotic blossoms and greenery. Paths wind through the rainforest setting, past a pond and waterfall and the emergence window, where butterflies leave their pupae and prepare to take their first flight! This magical attraction is popular with all age groups.
A coupon for discounted admission to the Butterfly Conservatory is included with the purchase of the Niagara Falls Adventure Pass. Open year-round, the Butterfly Conservatory is fully accessible. Learn more about the Niagara Parks Butterfly Conservatory at www.niagaraparks.com.
Bird Kingdom
1.0 Miles / 1.6 Km
Amazing Birds, Reptiles and More!! 4x Winner of Niagara's "Attraction of the Year", this soaring adventure is for the whole family! Discover the world's largest indoor, free flying aviary with over 400 exotic birds from around the world. Nine specialty areas to explore as you journey through this magical Kingdom. www.birdkingdom.ca
Marineland
1.6 Miles / 2.5 Km
You'll want to spend the whole day to enjoy all the fun offered at Marineland. See performing dolphins, sea lions and walruses. Marvel at killer whales. Feed and touch a beluga whale. There are land animal displays and thrilling amusement rides for all ages. Don't miss this popular Niagara attraction! www.marineland.ca
Safari Niagara
10.3 Miles / 16.5 Km
Safari Niagara is a 150 acre nature parked filled with many different kinds of animals and birds. It is a great family attraction that not only lets children view these animals, but can interact and learn more about the different types of animal species living here on Earth in a rewarding way. www.safariniagara.com
Niagara Vintage Wine Tours
6.2 Miles / 9.9 Km
When you book a Niagara Vintage Wine Tour, you'll experience an educational and a fun filled interactive wine experience. Join them as one of their expert wine professionals help you learn about the history of the Niagara Wine region, how grapes grow and the best part of all and what it takes to make world class wine.

Join our mailing list for
Niagara Falls exclusives: