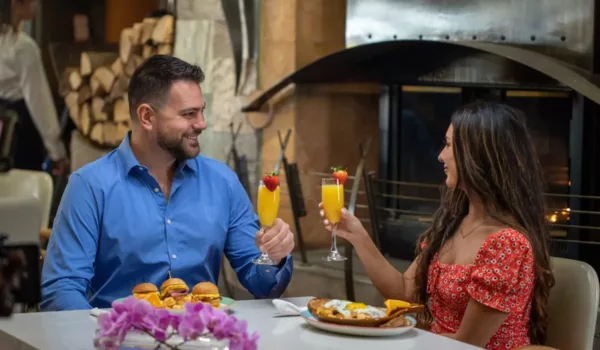 On site at the Holiday Inn By The Falls
Menu & Reservations
Dine indoors next to a cozy fireplace in Coco's Steakhouse or experience Niagara's ultimate outdoor Fallsview patio. Enjoy Terrace dining under starlit skies amongst flaming torches complete with a Tiki bar, outdoor wood-fired rotisserie, and seasonal nightly entertainment.
Coco's Steakhouse – Holiday Inn By the Falls Hotel and Restaurant, Niagara Falls, or choose Coco's Pizza Bar and Lounge where you'll savour Gourmet Pizza prepared with tradition in our authentic wood-fired pizza oven. Mr. Coco's also features our very popular outdoor walk-up pizza bar where you can simply sit, relax, indulge, and watch the world pass by. Come on into Coco's and join us for great food, good friends, and great times.
So if you're hungry and don't want to travel far from your hotel room then come join us at Coco's Terrace Steakhouse.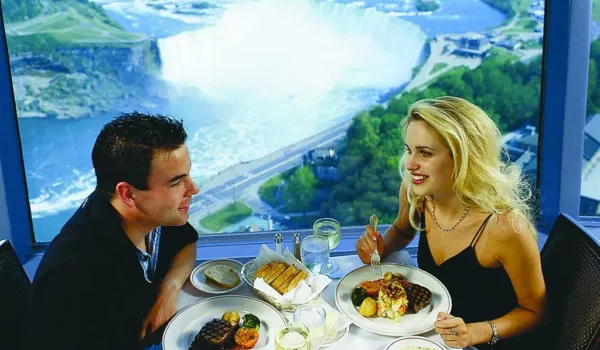 Right Next Door
Menu & Reservations
Although this Niagara Falls hotel has a great view of the mighty Falls, no other place can provide you with a view of the Falls like Skylon Tower can. At Skylon Tower, Niagara Falls fine dining is quite literally taken to the top at the world-famous Revolving Dining Room. At the height of dining excellence, their award-winning continental cuisine is presented 775 feet above the Falls. Lunch or dinner, the menu is rivalled only by the spectacular view. Whether you come for a romantic dinner for two, a special celebration or a family outing, this restaurant promises to be the magical highlight of your visit to Niagara Falls.
Relax and enjoy as you revolve silently 360 degrees once each hour. Dine by night and you'll discover the magic of the Falls illumination, dazzling city lights below and seasonal Falls fireworks. Early dinner specials are available at 4:30 and 5:00 pm daily. And the admission to the Ride-to-the-Top and Indoor/Outdoor Observation Decks is always FREE when dining.