Skylon Tower's 50th Anniversary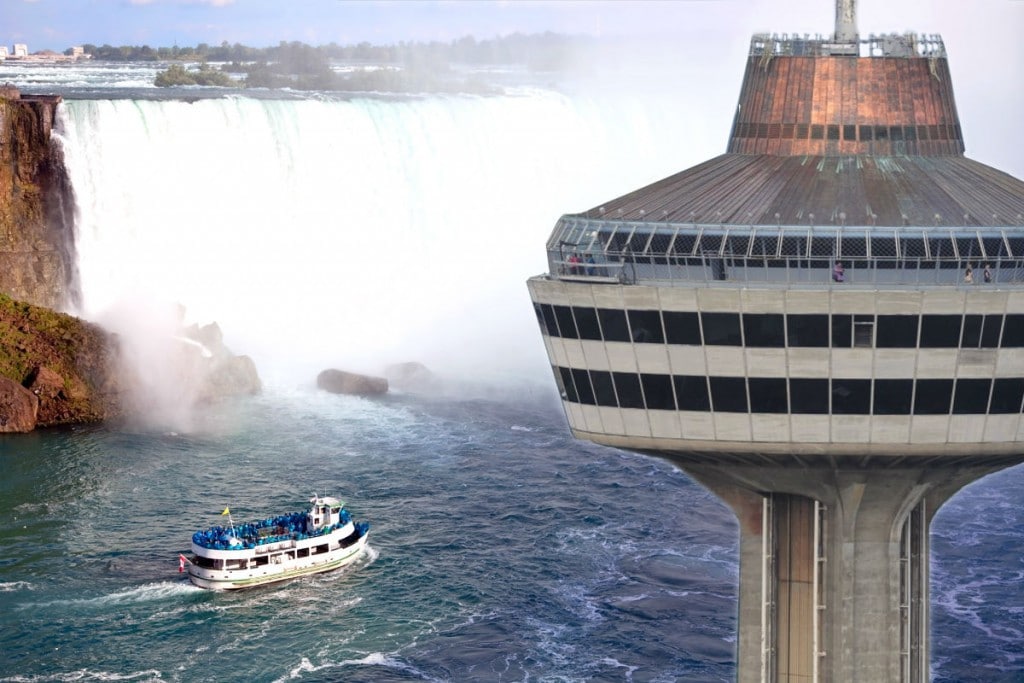 Come Celebrate Skylon Tower's 50th Anniversary!
Do you have a special memory at the Skylon Tower in Niagara Falls, Canada? For 50 years couples have been marking their special moments atop the iconic Skylon Tower, where the view of the Falls is simply spectacular. If it's where you were engaged, celebrated an anniversary or a milestone birthday, consider returning between Tuesday October 20 – Friday November 20, 2015 to celebrate its 50th anniversary with special events and great discounts. With two levels of award-winning fine dining, both 775 feet above the Falls, it's a culinary must for those looking to rekindle old memories or make new ones.
Interesting Facts About One of the Most Recognizable Landmarks in Niagara Falls
The Skylon Tower has been offering spectacular, unobstructed views of the Canadian Falls, the American Falls, Horseshoe Falls and the entire Niagara area for 50 years. In that time did you know that:
The Skylon Tower is the tallest of four towers in the Niagara Falls area, measuring in at 520 feet tall. The other three towers are:

Moose Tower Observatory (measuring 250 feet tall)
Prospect Point Observation Tower (measuring 282 feet tall)
Minolta Tower, formerly known as Seagram Tower (measuring 325 feet tall)

The Skylon Tower's two glass elevators can hold up to 30 people at a time and move at 500 feet a minute. Fitness enthusiasts may prefer to take one of the tower's two 662 step staircases.
Base jumping (parachuting from the observation deck to the ground) was very popular in the late 1990's and at least five people parachuted from the Skylon Tower in 1999.
Source: http://www.skylon.com/2012/04/niagara-falls-a-history-of-its-towers/
Spectacular Views Like No Other
Nowhere else in Niagara Falls has views like the Skylon Tower. In May, 1964 construction of the tower began and with a final price tag of $7 million dollars it was officially opened on October 6th, 1965 by Ontario Premier John Robarts and the famous New York Governor Nelson Rockefeller. Skylon Tower's world-famous revolving dining room offers a 360 degree perspective of the Falls once each hour. On a clear day guests can even see complete views of the Toronto and Buffalo skylines.
The award-wining continental cuisine offers lunch and dinner sittings and is famous for its tasteful, wide selections. Guests who choose to dine in the evening can witness the beauty of the Falls illuminated with spectacular lighting displays. Guests who time their visit right may even catch one of the city's seasonal firework celebrations.
Guests of the Holiday Inn Fallsview, which is adjacent to the Skylon Tower can book an Enchanted, Romantic or Breakation package and receive special discounts at the Skylon Tower gift shop. Plus, admission to the Ride-to-the-Top and Indoor/Outdoor Observation Decks are free for restaurant guests. With a shopping centre, glass blowing studio, 3D/4D movie theatre and family arcade, the Skylon Tower has been providing world-class entertainment to families for 50 years.
Stay Next to Skylon Tower with one of Holiday Inn Fallsview's Affordable Packages
If you're considering a visit to Niagara Falls and the Skylon Tower is on your must-see list then why not stay next to it at the Holiday Inn Fallsview? The Breakation Package features dinner for two throughout your stay – one night at the Skylon Tower's revolving restaurant and one night at Coco's Terrace Steakhouse as well as two nights of worry-free accommodation in one of our hotel in Niagara Falls' most luxurious suites. With free, on-site parking and wine tasting this package is sure to offer a relaxing break from your hectic, busy routine.
Couples who are celebrating an anniversary, engagement or other special occasion are sure to find the romantic adventure they're seeking with the Romance Vacation Package. With a special wine tasting at the famous Inniskillin winery, a romantic dinner at the Skylon Tower's revolving restaurant and a second intimate meal at Coco's Terrace Steakhouse, as well as two nights in a luxury king room with a spacious whirlpool bath for two it won't be difficult to rekindle your passion.
Guests who wish to dine at Skylon Tower's revolving restaurant but only have one night free to enjoy the Falls may prefer the Holiday Inn Fallsview's Enchanted Package, which offers similar features of the two-night packages mentioned above, but is geared to a one-night stay in the Niagara area.
Whether you are in Niagara Falls for one or two nights and plan to propose, celebrate your wedding anniversary, or mark another special occasion consider sharing your fallsview celebrations with the Skylon Tower as it marks 50 years as an iconic landmark in the Niagara Falls area.